OPCNetView is a simple and effective diagnostic tool which provides an instant view of OPC connectivity at a node. Using OPCNetView can significantly reduce the time needed to resolve problems and so keep your vital applications running.
Jemmac are very pleased to announce that following extensive testing, Honeywell have approved OPCNetView V1-1 for use on Experion® Process Knowledge System (PKS) R3xx, including nodes hosting TPN Servers.

OPCNetView product Manager Mark Fisher said:
"This is clearly a big endorsement for this special product and shows that it's value is appreciated by one of the worlds largest DCS vendors."
"DCS systems are increasingly complex, distributed and challenging to visualize. OPCNetView provides a simple and effective way of understanding all the OPC connections in this environment. The real-time view that OPCNetView presents is valuable for monitoring, planning and troubleshooting activities."
Read more here: Products Page
About Honeywell
Honeywell Automation and Control Solutions are a global leader in solutions for industrial plants, offering advanced software and automation systems that integrate, control and monitor complex processes in many types of industrial settings.
They provide sensors, switches, control systems and instruments that measure pressure, airflow, temperature, electrical current and more. Their customers are from industries such as manufacturing, oil and gas production, food processing and utilities.
About Experion® Process Knowledge System (PKS)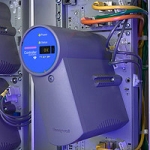 Honeywell's Experion® Process Knowledge System (
PKS
) has proven to be extremely successful in helping thousands of customers worldwide improve productivity and profitability with innovative technology.
Experion transforms process control beyond traditional Distributed Control System (DCS) functionality by unifying people with process variables, business requirements and asset management. It is the only automation system that focuses on plant personnel and making the most of their knowledge.
For more information, contact: