SapphireTrend
A world-class solution for your Process Visualization needs.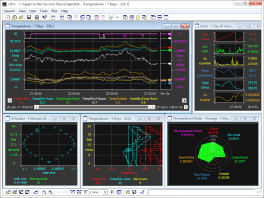 (Screen shot showing multiple graph styles)
Modern manufacturing operations are increasingly dynamic in character and constantly demand more sophisticated techniques to improve performance, increase yields and reduce waste.
SapphireTrend combines highly efficient data collection with advanced trending features providing a real-time view of the process for monitoring, analysis and diagnostic purposes.
SapphireTrend helps you to achieve:
Improved performance
Increased yield
Reduced waste
"Sapphire Trend has been incorporated into all aspects of our plants production facilities"
(Systems Engineer, World leading Oil & Petrochemicals Multinational)

News Update - July 18th, 2017:

SapphireTrend V6-2 released, featuring a new Radar Area Chart graph style which allows multiple polygons to be drawn within a single radar plot. The Collector also has a new Script based Plug-in DLL which allows data from virtually any third party application to be historized and trended within Sapphire.
Read more in the News section...