SapphireTrend Product Sheet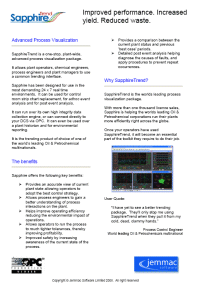 Jemmac launched SapphireTrend, an Advanced Process Visualization package in 2003.
SapphireTrend combines highly efficient data collection with advanced trending features providing a real-time view of the process for monitoring, analysis and diagnostic purposes.
With global installs now exceeding 3500, SapphireTrend has established itself as the market leading visualization tool for those who demand more than the basics from their control systems.